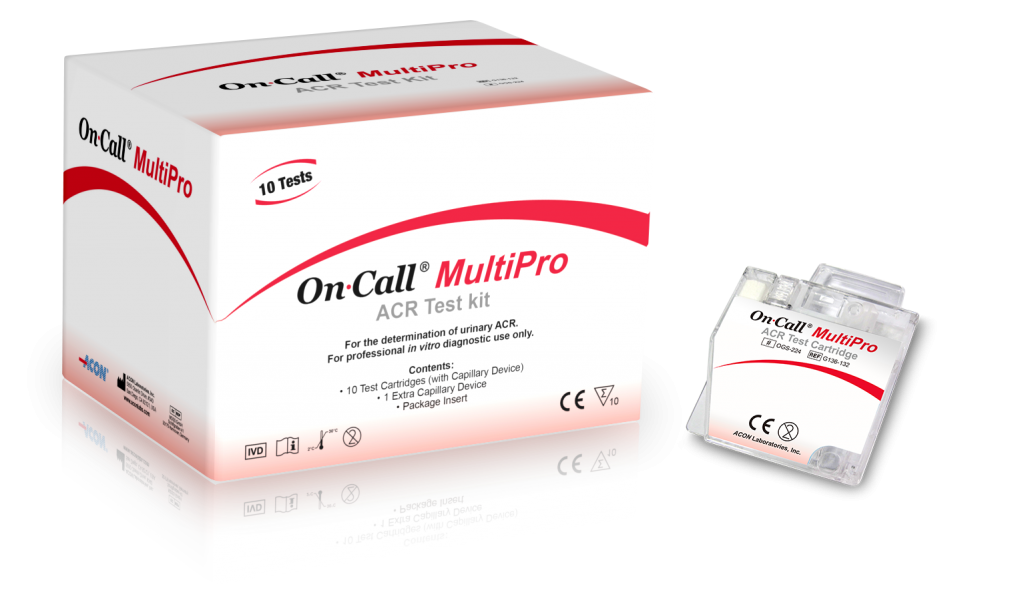 Products are Available for Distribution outside the US Only
Detect and Monitor Chronic Kidney Disease with One Simple Test
ACR, urine albumin-to-creatinine ratio, is the preferred method for detecting elevated protein in urine and a key marker for chronic kidney disease (CKD). Results approximate the milligrams of albumin excreted in a 24-hour period and are unaffected by variations in urine concentration.
On Call® MultiPro ACR utilizes enzymatic and immunoturbidimetric methodology to run both urinary albumin and creatinine tests simultaneously. ACR is then calculated from the test results. This methodology provides the level of accuracy and reliability needed for effective screening and monitoring of CKD, kidney damage and diabetic kidney disease. Running ACR is simple and results are available within minutes. Why send out when quality results can be obtained in-house so easily?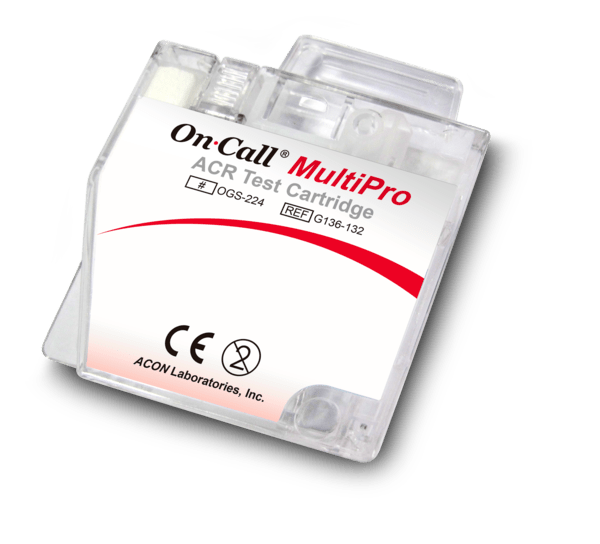 Features
Enzymatic and Immunoturbidimetric Methodology
Results in 6.5 Minutes
3-step Operation
Minimal Hands-on Time
5 µL Urine Sample
ACR Product Specifications
Feature
Specification
Methodology
Turbidimetric Immunoassay and Enzyme Method
Test Time
6.5 Minutes
Specimen

5 µL Human Urine

Test Range
Albumin: 5 – 200 mg/L
Creatinine: 15-500 mg/dL (1.3 – 44.2 mmol/L)
Albumin-to-Creatinine Ratio: 1-1333 mg/g (0.1 – 152.4 mg/mmol)
Storage Conditions
2-30 ºC (36-86 º F), 10%-90% RH
Operating Conditions
15-32 ºC , 10%-90% RH
Platform
On Call MultiPro Analyzer
Linearity
r > 0.99
Resource Library
Browse our Resources Library for documents available for download.