CentriVet® is a family of products dedicated to the well-being of our animal friends, large and small. Stemming from years of experience in the medical device arena, our product offering includes a dual Ketone/Glucose meter, as well as urine reagent test strips.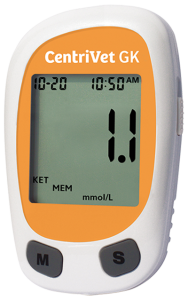 CentriVet® GK
The CentriVet® Blood Glucose & Ketone Monitoring System is a dual glucose and ketone meter made specifically with animals in mind.
Resource Library
Browse our Resources Library for documents available for download.