Mission® HA-360 3-Diff Automatic Hematology Analyzer
Hematology Testing for Professional Use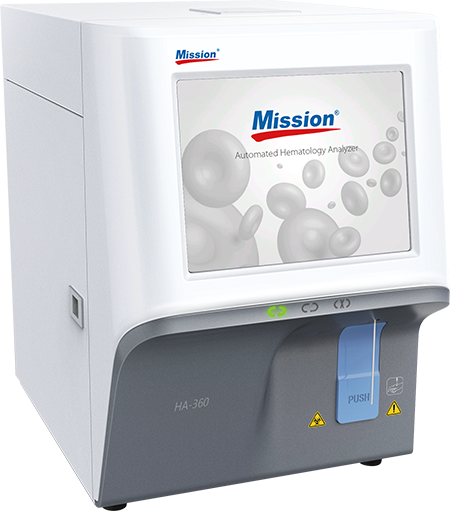 Product is Available for International Distribution Only – Not Available in the US
Mission® HA-360 3-diff Automatic Hematology Analyzer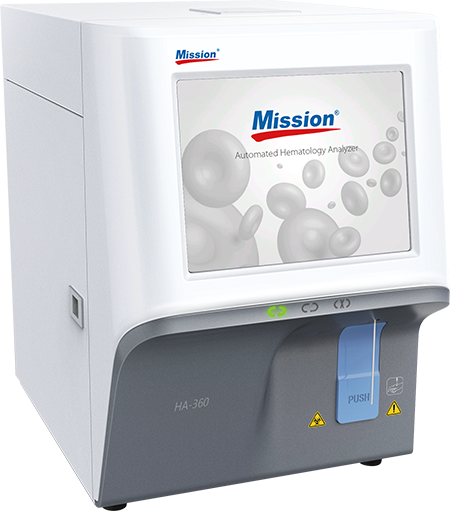 With the Mission® HA-360 3-diff Automatic Hematology Analyzer, healthcare professionals can be assured that they are getting the accuracy and reliability they need and expect.
The Mission® HA-360 3-diff Automatic Hematology Analyzer is designed specifically to meet the needs of healthcare professionals at the point of care.
For professional use.
Features
Innovative Technology
Sheath Flow Impedance Method for RBCs/PLTs counting

LED and receiver tube fully

integrated—for greater HGB stability

Performs rapid and accurate analysis of 21 parameters
High Accuracy and Reliability
Proven technology for accuracy of results
Linearity to support clinical diagnostics and monitoring
Easy Operation and Maintenance
Comprehensive QC information
Barcoded reagent management

One-click troubleshooting

Daily maintenance time reminder: Convenient for daily work
Safe and Secure
Non-toxic, biodegradable reagent system
Two basic reagents (diluent and lyser) for complete results
Product Specifications
Features

Specifications

Principles & Technologies

WBC: Impedance Method

RBC, PLT: Sheath Flow Impedance Method

HGB: Colorimetric Method

Parameters

Whole Blood (WB) and Pre-Dilute (PD) Mode; 21 parameters

WBC; LYM#; MXD#; NEUT#; LYM%; MXD%; NEUT%; RBC; HGB; HCT; MCV; MCH; MCHC; RDW-CV; RDW-SD; PLT; MPV; PDW; PCT; P-LCR; P-LCC

Histogram

WBC (3-Part Differential), RBC, PLT

Data Storage

50,000 complete sample results with histograms

Power Source

(100-240V) AC; 50 Hz/60 Hz; 300 VA

Dimensions

340 mm*465mm*425mm

Weight

24.3 kg
Resource Library
Browse our Resources Library for documents available for download.