ACON Laboratories, Inc., of San Diego, California, has become aware that counterfeit versions of its FDA-authorized Flowflex™ COVID-19 Antigen Home Tests are being illegally imported and sold in the United States through unauthorized distributors and resellers who have no connection to ACON Laboratories. These counterfeit tests have not been reviewed or authorized by FDA, but their packaging and components very closely resemble authentic FDA-authorized Flowflex tests.
Consumers should take precautions to avoid purchasing or using counterfeit Flowflex tests as there can be no assurance that they work properly. Current evidence suggests the counterfeit tests are NOT performing as well as the authorized tests. The counterfeit tests can be identified by the following differences from authentic Flowflex tests:
The counterfeit white retail boxes are missing the Lot Number / Expiration Date / 2D-datamatrix label that is found on authentic Flowflex COVID-19 Antigen Home Tests:

The counterfeit test kits are missing the Spanish language Instructions For Use. The authentic Flowflex test kits include both English and Spanish Instructions For Use.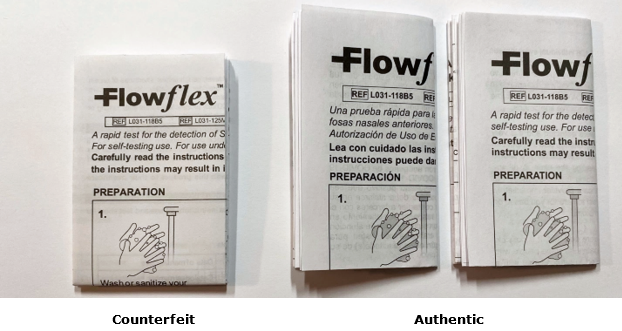 The counterfeit pouches inside the box that contain the test cassette have Lot # COV2015122 and are labeled as "SARS-COV-2 ANTIGEN RAPID TEST (SELF-TESTING)," whereas the authentic Flowflex test cassette pouches are labeled "COVID-19 ANTIGEN HOME TEST":

The plastic test cassette may have a 2D barcode which differs from the one printed on authentic Flowflex tests. The counterfeit tests may have a QR code containing square shapes within a square box on 3 corners of the code, as shown below. The authentic Flowflex tests have a 2D-datamatrix without those three boxes.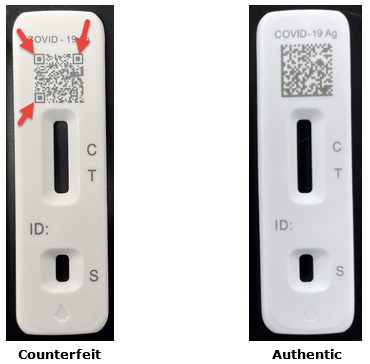 ACON Laboratories, Inc., as the only legal importer of the Flowflex COVID-19 Antigen Home Tests, is working closely with the FDA, U.S. Customs and Border Protection (CBP), and our authorized distributors to block the illegal importation of counterfeit Flowflex tests, and will take legal action against persons or entities found to be illegally involved with these counterfeit products. Retailers and consumers should be aware that the only legal channel for authentic FDA-authorized Flowflex tests is from Acon Laboratories through its legally-authorized distributors. Any purported Flowflex tests that are claimed to be from Europe, from Canada, or "direct from the factory" in China, or which are sold at a notably steep discount should be presumed to be unlawful counterfeits.
The only authorized Flowflex distributors are listed on our website:
https://flowflexcovid.com/authorized-us-distributors/
This is not a recall, as these counterfeits were not manufactured, imported, or distributed by ACON Laboratories. Retailers and consumers who encounter or possess counterfeit products should not use them and should destroy them. ACON Laboratories is unable to receive returns of any such counterfeit products you may possess.
If you have information regarding the distribution or sale of counterfeit Flowflex tests in the USA, including any sale of any Flowflex products packaged in blue boxes, please contact ACON Laboratories at info@www.aconlabs.com.
Individuals who encounter problems with the counterfeit device can report it to FDA as a voluntary adverse event report at: MedWatch, the FDA's Safety Information and Adverse Event Reporting Program. Alternatively, problems can be reported to FDA using either method below: