HPV 18 High-risk Types with 16/18 Genotyping Test Kit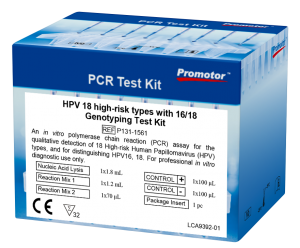 Product is Available for International Distribution Only – Not Available in the US
HPV 18 High-risk Types with 16/18 Genotyping Test Kit

This PCR test kit is for the qualitative detection of 18 high-risk HPV types in cervical specimens. The test utilizes PCR technology to amplify target DNA and determine the presence of each viral type. Up to three test results are obtained per patient sample and provide the following information:
Specifically distinguish between the presence of HPV 16 and HPV 18
Screen for the presence of high-risk types: HPV 26, 31, 33, 35, 39, 45, 51, 52 53, 56, 58, 59, 66, 68, 73, 82 with one qualitative result
The kit can be used in conjunction with clinical information derived from other diagnostic and screening tests, physical examinations and professional guidelines to guide patient management. 
Advantages and performance
Determine the presence of 18 high-risk HPV types
Distinguish between HPV 16 and HPV 18
Concordance:
Demonstrated 98.5% relative sensitivity, 98.38% relative specificity, and 98.44% relative accuracy, when compared with a commercial PCR-reverse dot blot hybridization assay for the same viral types.
Comparisons of only HPV 16 and HPV 18 demonstrated (respectively) sensitivity of 98.46% and 96.3%, specificity of 99.84% and 100%, and accuracy of 99.72% and 99.86%
Time to result
Amplification/detection in 45 minutes; total time to result about 1.5 – 1.75 hours (including hands-on prep time, extraction and amplification/detection)
Kit includes extraction reagent.
Specificity:
No cross-reactivity with certain low-risk genotypes, including HPV 6, 11, 81, 61, 67, 69, 71, 40, 42, 43, 44, 83, 54, 72 or certain viruses and microorganisms, including HSV-Ⅱ, UU, NG, CT, CMV, EB, TP, TV, MH and CAL
Controls: internal (β-globin) and external
Package size: 32 tests/kit
Resource Library
Browse our Resources Library for documents available for download.