On Call® GK Dual BGMS
Two Tests in One: Glucose & Ketone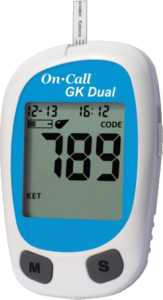 Product is Available for International Distribution Only – Not Available in the US
The On Call®  GK Dual is a high-performance device providing the ability to test both blood glucose and ß-ketones on the same meter. Both, the On Call® Chosen and On Call® Advanced test strips are compatible for use with the On Call® GK Dual for glucose testing. The On Call® Blood Ketone Test Strips are compatible for use with the On Call® GK Dual for ketone testing. These test strips are also available individually foil-wrapped for added convenience and reduced contamination risk.
Two Tests in One Meter
Glucose results in just 5 seconds

Ketone results in just 10 seconds

Compatible with On Call® Chosen or On Call® Advanced glucose test strips
User-Friendly Design
Ketone test strips clearly labeled for easier strip identification and operation

Strip ejector provides easy and safe disposal of used strips
Advanced Glucose Features
Meal-markers help monitor results before and after meals

5 customizable test reminders

Hypo, hyper, and ketone warnings alert users to take necessary action
Feature
Specification
Test Time

Glucose: 5 seconds

β-ketone: 10 seconds  

Sample Size

Glucose: 0.8 μL

β-ketone: 1.2 μL

Test Range

Glucose: 0.6 – 33.3 mmol/L (10 – 600mg/dL)

β-ketone: 0 – 8.0 mmol/L

Hematocrit Range

Glucose: Refer to strip insert

β-ketone: 20% – 70%

Operating Temp Range

5 – 45ºC (41 – 113 °F )

Operating Humidity Range

10 – 90%

Memory Storage

Up to 450 blood glucose and β-ketone records with result type, date and time

Test Averaging

7, 14, 30, 60 and 90-day averages

Battery Life

Minimum of 3,000 tests

Automatic Shutoff

2 minutes after last action

Meter Size

90 x 58 x 19 mm

Display Size

40 x 36 mm 
Resource Library
Browse our Resources Library for documents available for download.