CentriVet® GK
Blood Glucose & Ketone Monitoring System for Animals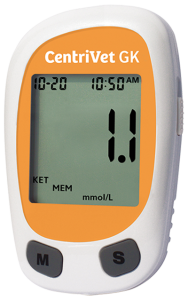 Product is Available for Worldwide Distribution
Exceptional clinical
accuracy
without compromising cost.
The CentriVet® Blood Glucose & Ketone Monitoring System is a dual glucose and ketone meter made specifically with animals in mind. The species-specific code chip technology provides accurate results for every animal, the way it should be. With fast test timing, 5 and 10 seconds for glucose and ketones, you can have result in the palm of your hand, wherever that is.
High Accuracy Blood Glucose and B-Ketone meter for animals
Results in the palm of your hand in a matter of seconds
Species specific Code Chip technology lets you test multiple species with the same strip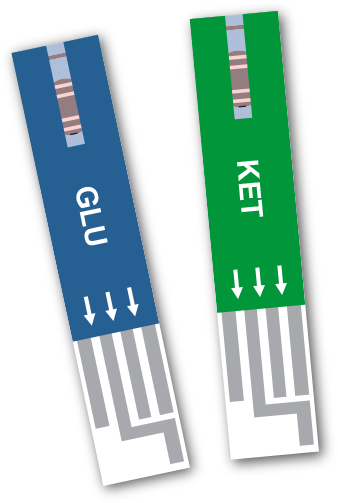 Fast and Reliable
Small 0.8 µL and 1.2 µL sample size for glucose and ketones
5 seconds for glucose results and 10 seconds for ketone results
Clinically proven accuracy
Audible fill detection reduces wasted strips
Premium Features
Helpful meal markers
Hypo and hyper alarms
Ketone test alert
5 Daily Reminder Options
Easy to Use
User friendly design
Large display with bold numbers
Strip port faces the animal
Convenient test strip ejector reduces risk of contamination
The CentriVet® GK Blood Glucose & Ketone Monitoring System is compatible with the CentriVet® Blood Glucose Test Strips and the CentriVet® Blood Ketone Test Strips as well as the CentriVet® Glucose Control Solution and CentriVet® Ketone Control Solution. The CentriVet® GK Blood Glucose & Ketone Monitoring System is ideal for use in veterinary clinics, emergency animal hospitals, for mobile vets, farm, and home use because of its portability and size.
Feature
Specification
Measurement Range

Glucose: 10-600 mg/dL (0.6 – 33.3 mmol/L)
β-Ketone: 0.0 – 8.0 mmol/L

Minimum Sample Size

Glucose: 0.8 µL
β-Ketone: 1.2  µL

Test Time

Glucose: 5 seconds
β-Ketone: 10 seconds

Sample

Glucose: capillary, venous
β-Ketone: capillary, venous

Battery Life
3,000 tests
Memory
Up to 450 records with date and time
Automatic Shutoff
2 minutes after last action or 5 secs after strip removal
Meter Size
90.3 x 58 x 19.4 mm
Display Size
40.2 x 36 mm
Operating Temperature
41-113˚F (5-45˚C)
Operating Relative Humidity
10-90% (non-condensing)
Hematocrit Range
20 – 60% for both Glucose and Ketone
Resource Library
Browse our Resources Library for documents available for download.