EUA ACON® COVID-19 IgG/IgM Rapid Test
Detects IgG/IgM antibodies to SARS-CoV-2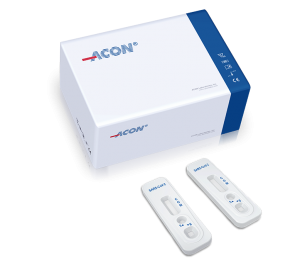 This test has not been FDA cleared or approved, but has been authorized for emergency use by FDA under an EUA for use by authorized laboratories
EUA ACON® COVID-19 IgG/IgM Rapid Test
High Sensitivity and Specificity
100 % (88.7 %; 100 %)*
96.2 % (95% CI: 89.5%; 98.7%)
*95% Confidence Intervals
Device Highlights
Test Cassette

Detects IgG and IgM
Small sample volume
Multiple sample formats
Fast results
Specimen Format
Serum

Plasma

Venous Whole Blood
This test has not been FDA cleared or approved, but has been authorized for emergency use by FDA under an EUA for use by authorized laboratories;
This test has been authorized only for the presence of IgM and IgG antibodies against SARS-CoV-2, not for any other viruses or pathogens; and
The emergency use of this test is only authorized for the duration of the declaration that circumstances exist justifying the authorization of emergency use of in vitro diagnostics for detection and/or diagnosis of COVID-19 under Section 564(b)(1) of the Federal Food, Drug and Cosmetic Act, 21 U.S.C. § 360bbb- 3(b)(1), unless the declaration is terminated or authorization is revoked sooner.
EUA ACON® COVID-19 IgG/IgM Rapid Test
Feature
Specification

Test Format(s)

Cassette

Specimen Format(s)

Serum / Plasma / Venous Whole Blood 

Detects

IgG/IgM antibodies to SARS-CoV-2

 

Sample Volume

Serum / Plasma: 10 μL

Whole Blood: 15 μL

Combined Sensitivity

100 % (95% CI: 88.7 %; 100 %)
Combined Specificity
96.2 % (95% CI: 89.5 %; 98.7 %)

Test Time

15 minutes

Shelf Life

9 Months

Storage Temperature

2 – 8 °C

Package Includes

Cassette(s)

Disposable specimen applicator(s)

Buffer

Package Insert

Tests / Kit

25 Tests / Kit
Resource Library
Browse our Resources Library for documents available for download.